Xcaret Mexico Espectacular
Every night for more than 20 years, Xcaret celebrates with the presentation "Xcaret México Espectacular."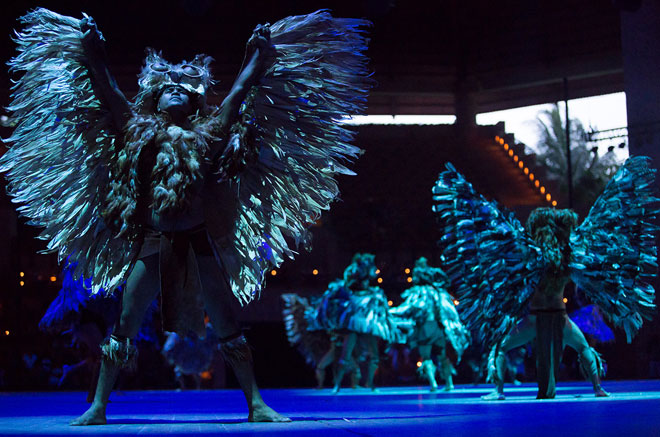 Enjoy a musical journey through the history of Mexico at the "Xcaret México Espectacular"  show, with more than 300 artists on stage; a tour that shows dances, typical costumes and an unforgettable Mexican fiesta.
The "Xcaret México Espectacular" show is full of lights and colors. Start with the Mayan Ball Game, first the traditional one and then with the rubber ball on fire. Afterwards, the different stages through which our Mexico has gone through, from the conquest to the revolutionary era, with the typical clothing of those stages of history, without forgetting the fantastic and moving image projected of our Virgin, "La Morenita de Guadalupe".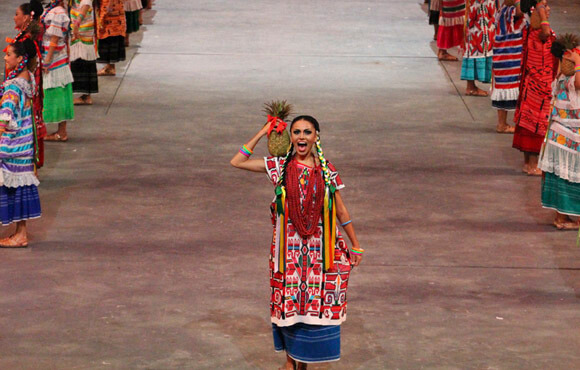 The second part is characterized by presenting typical dances and all the verbena of the different cultural regions of Mexico. It is very cheerful and entertaining for the whole family. The most popular presentations are Los Viejitos de Michoacán and México en la Piel with the singers of Xcaret.
A tribute to Mexico that overflows with joy, magic and tradition, accompanied by the most representative music of this incredible country of treasures, including of course the Mariachi, a World Heritage. We will scream all together ¡Viva México!
Some important facts:
Location: The show takes place in the Gran Tlachco, located at point 60 of the Xcaret map. To get there you must follow the red line on the floor.
Schedule: It is presented every day, starting at 19:00 (hours subject to operation or season).
Duration: Two hours of show with an intermediate of 10 minutes.
For the whole family: You can attend with children of all ages.
On March 20, 2002, the Gran Tlachco forum was opened, where it is currently represented.
While within Xcaret México Espectacular there are songs that are popular songs such as "Son de la negra" or "Jarabe Tapatío", most of the show's music is original and has been created by the musicians at Xcaret. One of the epic moments of the show is "The Encounter of Two Worlds"; with a musical composition that represents the meeting of the pre-Hispanic world with the New World brought by the Spaniards to America.
The singers of Xcaret come together for one last song: "México en la Piel". The moment in which the entire cast goes out to bid farewell to the spectators, carrying flags of many countries and singing together the song that has become a hymn.
Xcaret México Espectacular, is not the only show you can enjoy in Xcaret, however, it is the most known, the most applauded and the one that most people call.
For the México Destination Club members, we also have a behind the scenes tour, to know everything about  "Xcaret México Espectacular". Book this exclusive tour directly with Concierge, upon your arrival at the hotel.