Welcome Home, Hotel Xcaret México
Your new vacation destination for this year is located in the majestic Mexican Caribbean and is called Hotel Xcaret México
Newly opened, in December 2017, with details of architecture and Eco-Integrator design, of simple lines in which the existing natural elements are integrated; luxury amenities that will not let you escape. The Hotel Xcaret México is the first step to create a unique worldwide destination, with entertainment, respect for nature, gastronomy and access to the best parks.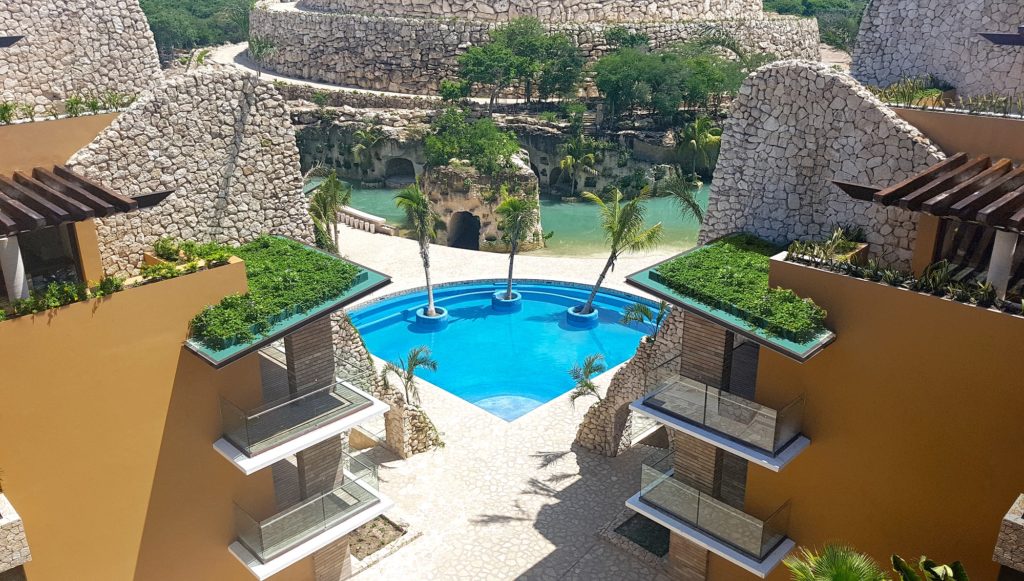 One of the first details that call our attention is the decoration of the lobby, with sculptures that simulate coral, to "immerse" in the reef.
Everything revolves around the design and the artisanal details, like the hammocks woven in Yucatan, or the Onyx lamps in the desks of the room, cushions embroidered in Puebla, colorful Chiapas looms, pieces of black clay and nest lamps detailed in Chetumal.
The details are marked by the aroma of the new and the determination of the finishes
Each of the spaces is perfectly planned according to the integration with nature, our guests and the activities.
The Hotel Xcaret México is divided into 5 buildings or houses, each one designed to enjoy the vacation experience.
Casa Fuego: great for adults, includes bars, good music, rest in hammocks in a cave, private  gym and the best views from its transparent pool.
Casa Tierra: family atmosphere, private pools and connecting rooms.
Casa Viento: thinked for the little ones in the family, with water park and slide, a climbing wall inside the pool, Kids Club and Teens Club. In addition, Chibali restaurant, with everything prepared to satisfy children and adults needs.
Casa Agua: for lovers of wellness,  suites with a stone jacuzzi, spa with cabins set in natural rock and  Temazcal.
Casa Espiral: great for groups, weddings, graduations and conventions, with beautiful sea views
Let us pamper you in our  10 restaurants and 8 bars where the star is Mexican cuisine.
As part of the natural integration, the luxury, the fusion of the Mayan culture with the current culture and leaving as protagonist the Caribbean Sea and its views, is the Xpiral Pyramid, a unique place for special occasions.
A new concept in hotel management, Hotel Xcaret México, which is summarized in the expression All-Fun Inclusive®.
¿What is All-Fun Inclusive®?
This program gives much more than a traditional All Inclusive, as it combines sophisticated facilities that harmonize with the nature of the Riviera Maya, and full access to all the parks and tours of Experiencias Xcaret. It also offers multiple activities and diverse culinary experiences that will make your vacations unforgettable. Transports are also included from the airport, as well as to the parks, either in "La Despeinada" that visits Xenses, Xcaret and Xplor, in the "trajinera" that makes trips between the Hotel Xcaret Mexico and the Xcaret park, or luxury buses for excursions and  Xel-Há, where you can enjoy the amazing Scenic Lighthouse.
Let's celebrate together the beginning of a new journey Hotel Xcaret México and México Destination Club.