Opening of the Xpiral Pyramid!
Last March, the moment we were waiting for finally arrived, Hotel Xcaret México inaugurated the Xpiral Pyramid!
A unique site that has a spectacular chapel to celebrate special occasions, the Pyramid also has a spacious room for various social events, a restaurant, and the X Lounge, an exclusive space for members of México Destination Club.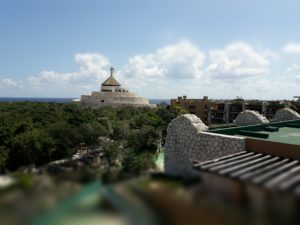 In addition, from the top of this pyramid you can contemplate an incomparable view of the Mexican Caribbean from 50 meters high.

Why the Xpiral Pyramid?
The spiral is one of the oldest symbols and is found on all continents, having played a fundamental role in symbolism since its appearance in megalithic art.
Currently, the spiral is also used as a symbol to represent cyclical thinking, in various philosophical, spiritual, aesthetic and technological proposals.
For the ancient Mayans, the Milky Way represented the Great Cosmic Mother, from which all life was born. For the Mesoamerican aborigines, Xibalbá Be was equivalent to the dark strip of our "Milky Way". This central area of the Milky Way is like a dark cave, which, when seen from our planet, gives the impression of being a cervical tunnel or passageway. Right in this place, scientists have discovered the galactic center, represented by a spiral. The spiral was also the symbol of the zero moment of its cosmology, and the moment of the winter solstice.
Welcome, and enjoy the most exclusive spaces of Hotel Xcaret México!