Experience the Day of the Dead Celebration at Xcaret Hotels
The Day of the Dead in Mexico is a vibrant celebration filled with tradition and significance. Every year, Grupo Xcaret joins in this celebration through the Festival of Life and Death Traditions, an event that pays homage to this ancient Mexican tradition. And what better place to enjoy these festivities than Hoteles Xcaret? 
What is the Festival of Life and Death Traditions?
The Festival of Life and Death Traditions is a cultural and artistic event held at Xcaret Park, located in the Riviera Maya. During this festival, we honor our departed loved ones through a series of activities that delve into the beliefs and traditions of Mexican culture. From October 30th to November 3rd, visitors can immerse themselves in altars, music, dances, exhibitions, and, of course, delicious traditional cuisine.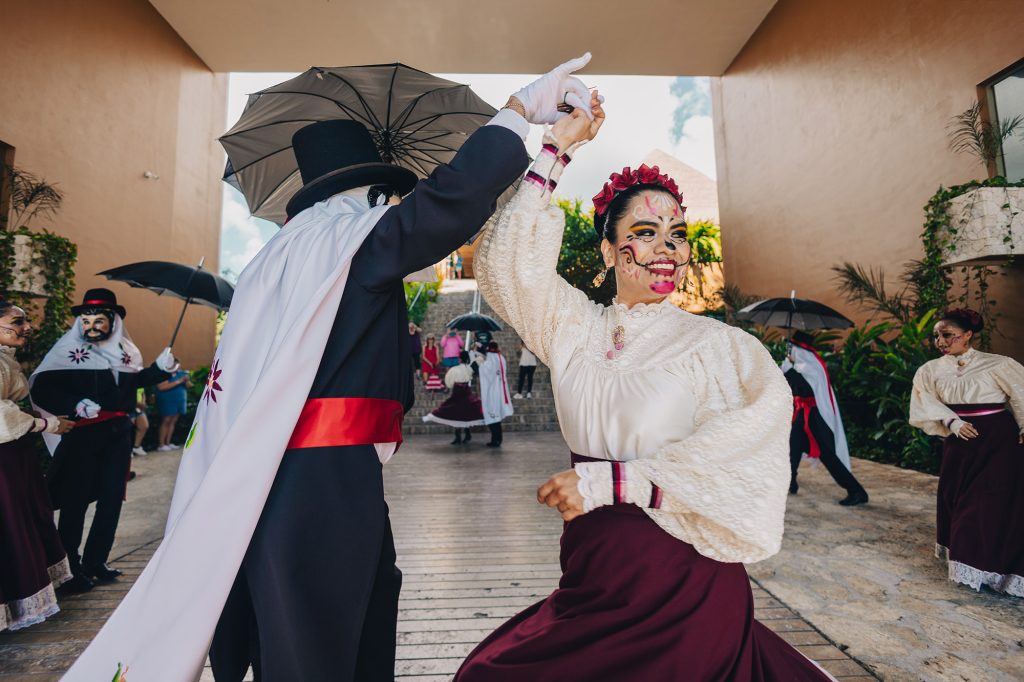 Activities at Hoteles Xcaret
This year, Hoteles Xcaret have joined forces with the festival to offer a unique experience to our guests. Here are some of the activities you can enjoy during your stay at our hotels: 
Chocolate Workshop: Dive into the world of chocolate with Möxo Chocolate Artesanal, a chocolatier from Querétaro. Both adults and children can explore the secrets behind the creation of Mexican chocolate.
Lele Doll Painting Workshop: The little ones in the family can let their imaginations run wild by painting Lele dolls in plaster, each representing the traditional attire of Querétaro.
Otomí Embroidery: Discover your creative skills in this embroidery workshop, which respects the worldview, nature, and stars from the artistic perspective of the Otomí people.
Lele Doll Crafting: Immerse yourself in the world of Lele dolls and learn to create your very own, following the traditions of Otomí craftswomen.
Black Pottery: Delve into the ancestral Otomí tradition of black pottery and learn about the rich Ñhañhu culture passed down through generations.
Queretan Wafers: In this workshop, you can create your own Queretan-style wafer, inspired by Dulces Bernal, artisans since 1961 who make wafers with 100% goat's milk, representing a tradition passed down through generations.
We invite you to take advantage of your preferential rate as a member of México Destination Club to stay at Hoteles Xcaret during the Day of the Dead festivities. Experience cultural activities, savor exquisite Mexican cuisine, and enjoy excellent hospitality.