Scenic Lighthouse at Xel-Há
The Scenic Lighthouse at Xel-Há is a unique place from whose top you can admire spectacular landscapes, and then descend it in the most fun way ending with a refreshing water landing.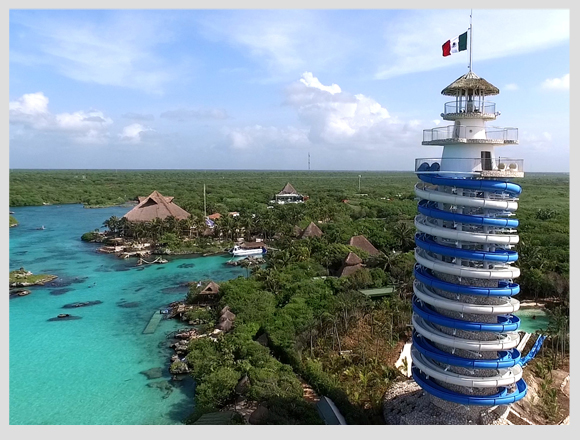 Quintana Roo has the oldest and the most modern lighthouse in Mexico; and they are less than 10 kilometers away from each other.
On the coast of the Caribbean Sea, in the state of Quintana Roo, the pyramid of Tulum, built in 1200 A.D., is crowned by a rectangular structure with openings towards the sea. This was lit up with wood fires which directed its light to Mayan navigators at night, and in the day with smoke signals.
The Scenic Lighthouse at Xel-Há is the most modern in the Mexican Republic. It is the first lighthouse in our country that fulfills a double function: to be useful as a visual reference of maritime navigation in the Mexican Caribbean, and it's a tourist attraction that allows for entertainment and the appreciation of the landscape. At the same time it will work as an intermediate lighthouse and it will appear, with its own registration and location coordinates, in international navigation charts.
The powerful LED lamp of the Scenic Lighthouse allows its signal to be seen up to 20 nautical miles away, which is approximately 37 kilometers.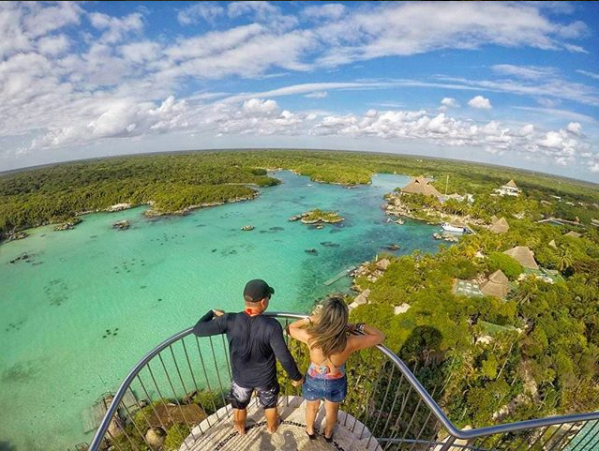 "The Scenic Lighthouse offers an incredible perspective of the cove of Xel-Há, a body of water of more than 14 hectares that has a mouth of 70 meters facing the Caribbean Sea"
Once you are at the top, no matter where you look, you will have 360 degrees of stunning landscapes that you will not be able to admire anywhere else, you will discover the incredible beauty of Xel-Há, the greens of the great Mayan jungle that surrounds us, and will be amazed with all the shades of blue of a Caribbean Sea that will seem to have no end. The whole panorama around it will be unbeatable and spectacular, your horizon will never be the same again.
It is also one of the most recent attractions and one of the highest slides in the Riviera Maya. Sliding down this 30-meter-high slide is an experience like no other in the destination. To get to it you'll have to climb the Scenic Lighthouse first. The scenic platform is 36 meters high and the lamp is at 39 meters.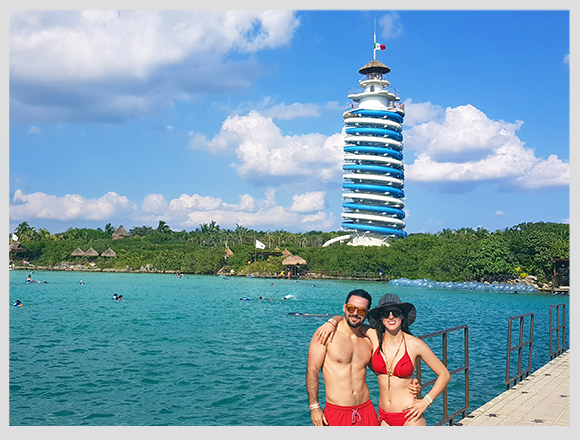 Remember that with your México Destination Club membership and booking at Hotel Xcaret México,  your entrance to Xel-Há is included, so you can enjoy this unique attraction in our country.