Chef´ s secrets with Franco Maddalozzo
Discover the influences and flavors that define the career of Franco Maddalozzo, Culinary Director at Hoteles Xcaret, and director of Fuego restaurant at Hotel Xcaret México and Cayuco at Hotel Xcaret Arte, in a friendly interview for México Destination Club.
Renowned chef Franco Maddalozzo has established himself as a key player in the radical transformation of the "food and beverages included" concept into a high-end culinary experience, which prioritizes art, technique and discipline, providing an exquisite national and international culinary selection as part of the All-Fun Inclusive® concept.
Born in the northern part of Italy, near Venice, Franco Maddalozzo studied at the Institute Alberghiero di Trieste, but his true school has been the experience received in different countries, experience that led him to create the Med-Mex cuisine concept, which he has perfected in the kitchens of Hoteles Xcaret.
On this occasion, México Destination Club held a pleasant interview with this Italian-Mexican celebrity chef to learn a little more about his professional career and impact on the culinary area, not only at Hotel Xcaret México and Hotel Xcaret Arte, but also in the Yucatan Peninsula and other regions of the country. 
México Destination Club: What makes the cuisine at Hoteles Xcaret unique, and how is it taking it to a new level?
Chef Franco Maddalozzo:
The cuisine at Hoteles Xcaret is a Mexican style fused with other cuisines, for example, we have the Fuego restaurant that has a Mediterranean fusion, as well as Cayuco restaurant.
We have Chino Poblano restaurant, which has a fusion of Puebla's culinary traditions with the great Cantonese cuisine. We have the Japanese restaurant, which is Tah Xido, here at Hotel Xcaret Arte, and Xin Gao, which is at Hotel Xcaret México, which, aside from all the sushi and onigiris, we have a variety of rolls with Mexican flavors, with Mexican ingredients.
And so, how do we raise the bar? With the support of well-known chefs, it is 99 percent Mexican. Only one is Peruvian and he is at La Casa de la Playa: Virgilio Martínez, number four chef in the world, according to the ranking of San Pellegrino and Nespresso.*
Other Mexican chefs ranging from Carlos Gaytán in HÁ, Alejandro Ruiz, in charge of Cantina Los Faroles at Hotel Xcaret México and Cantina VI.AI.PY. at Hotel Xcaret Arte; Jonatán Gómez Luna, in charge of Chino Poblano at Hotel Xcaret Arte; Paco Méndez, who won a Michelin star in Barcelona, in charge of Encanta restaurant at Hotel Xcaret Arte, Luis Arzápalo, who is our chef for the Japanese restaurants Xin Gao and Tah Xido; Orlando Trejo, who is the executive chef at Hotel Xcaret México but also has a restaurant here at Hotel Xcaret Arte called Arenal; and myself, the Culinary Director of Hoteles Xcaret, also in charge of Cayuco restaurant and Fuego restaurant at Hotel Xcaret México.
*San Pellegrino, a renowned soft drink brand, and Nespresso sponsor "The World's 50 Best Restaurants", an annual ranking with strict voting codes that guarantee the best culinary selection worldwide. In 2021, the Central restaurant, by chef Virgilio Martínez, reached fourth position on the list.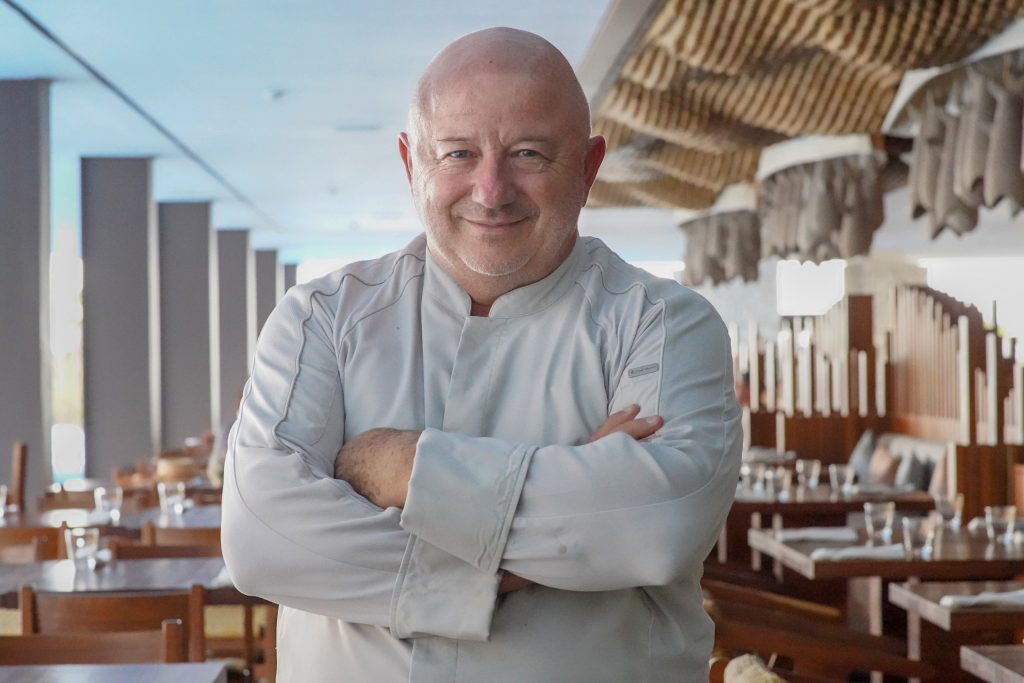 México Destination Club: Hotel Xcaret Arte makes us live Mexican art. How do you carry out your artistic expression through gastronomy?
Chef Franco Maddalozzo: Well, that's very simple. The kitchen is pure art, beginning with the creations of each chef. So, this is not difficult to answer. We don't make pottery, we don't paint a canvas, we don't make manufactured wares… we cook, and cooking is an art.
México Destination Club: Are there any personal influences represented in the restaurants you run at Hoteles Xcaret? Which ones are the most significant?
Chef Franco Maddalozzo: Due to my birthplace, in northern Italy, near Venice, my cuisine has a Mediterranean influence, but more from the north of Italy. And obviously I fuse it a lot with Mexican products and dishes. For example, I have a risotto, which is called Risotto de la Comadre, which is a risotto with mole, Oaxacan chocolate and a slice of foie gras. It is one of the star dishes of Italian cuisine but made with Mexican products.
México Destination Club: La Casa de la Playa represents the most exclusive aspects of Hoteles Xcaret. What was the biggest challenge when defining the restaurants?
Chef Franco Maddalozzo: We have three celebrity chefs. Obviously, we start with chef Martha Ortiz, whom I consider the Frida Khalo of the kitchen, because it is a very dramatic kitchen, very colorful: red, yellow, with very intense colors… she is a modern Mexican cook who obviously has very solid foundations of what is the home cooking of Mexico, but reinvented by her in a different way, with incredible presentations.
We have the Rivera-Río brothers, from the Koli restaurant in Monterrey. They are very talented and present a cuisine from both sides of the country: one from the northeast of Mexico and the other from this part of the country, such as the Caribbean, Yucatan, Quintana Roo… a very good proposal with great success.
Finally, we have succeeded in having the great chef Virgilio Martínez, a very talented Peruvian, joining us with great success. He is the first chef in Latin America to feature the 50 Best ranking, and he is number four in the world.
México Destination Club: Can you tell me a little about how Italian traditions coexist with Mexican traditions in the dishes, specifically talking about the culinary fusions that can be found in the Fuego restaurant at Hotel Xcaret México?
Chef Franco Maddalozzo: Mexican families, like Italian, gather on holidays and on Sundays around a table, in a kitchen. Eating is a tribute to happiness, closeness, love, and the wellness that a family or a friend always wants to share.
In terms of functions, it is not difficult… vegetables are vegetables, meat is meat, chicken is chicken… we have a difference: we eat pasta every day and you eat tacos or tortillas every day, we eat bolillo and bread and Mexicans still eat tortillas, right? And if I tell you one thing, a very curious fact that no one believes me, but I read it and not once, is that pizza in this country has surpassed tacos in quantity.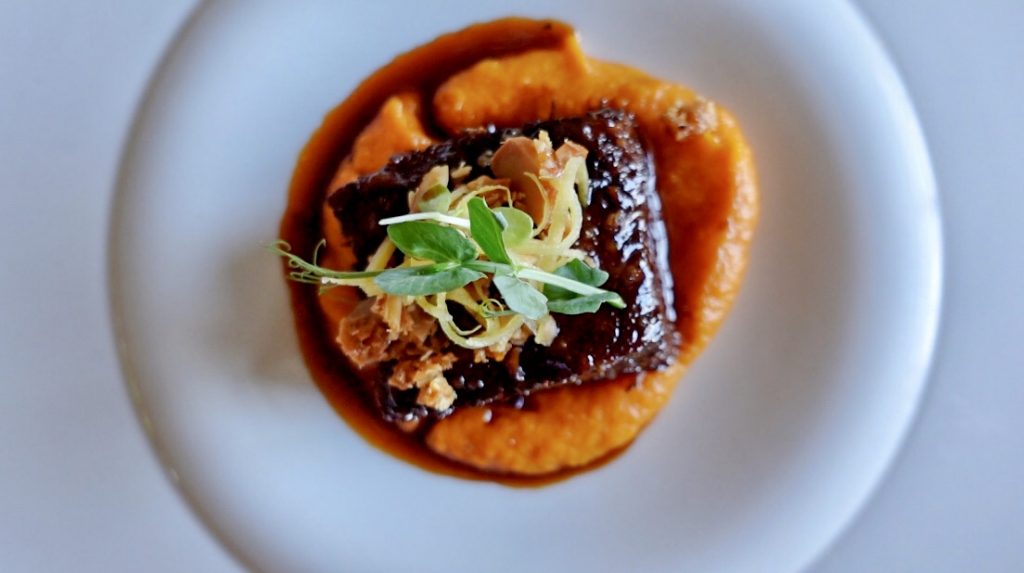 México Destination Club: Can you tell us how you brought together Mediterranean and Mexican cuisines to form the concept of Cayuco restaurant at Hotel Xcaret Arte?
Chef Franco Maddalozzo: Our concept, which is more noticeable at lunch and dinner than at breakfast (because breakfast in Cayuco is typically Mexican), let's say, a strong breakfast with many stews, with Patron-style eggs being made here on the tables. Meanwhile, at lunch and dinner we offer Italian stews, risottos, pastas, and if we want to go a little further, there is paella, which is not Italian, but Mediterranean.
At night, Cayuco's menu transforms into a deep Italian side: there's a lot of pasta, there's a lot of carpaccio, there's tartar, salads, it's a slightly fresher menu, I think the evening menu is seventy percent Italian, with Mexican accents.
México Destination Club: How are the concepts of Sustainability applied in the kitchens of Hotel Xcaret Arte?
Chef Franco Maddalozzo: We try to buy as local as possible. If we have local farmers, we buy from them; If we have people who have duck, chicken, egg farms, we try to buy them.
The culture that we spread in our kitchens… we have a container for each item and there it is divided, and we are very responsible for this to happen. We greatly reduce plastic, paper, cardboard and paper boxes… everything is differentiated. So that's where a good culture of sustainability begins.
México Destination Club: What are the principles that govern your cooking style?
Chef Franco Maddalozzo: Education, respect, order, passion, creativity and the highest level of demand.
México Destination Club: Just that?
Chef Franco Maddalozzo: Just that (mischievous smile).
México Destination Club: Speaking of your particular cuisine, is there any new style or concept that you would like to develop in the future, either in current restaurants or in a new project?
Chef Franco Maddalozzo:
I think everything has already been created. What we have to do is continue with the techniques that we have, with the cooking, with the conservation that we have.
Thank God Grupo Xcaret has given us the highest level of machinery. All the toys that a chef dreams of for his kitchen, we have them. Thank God we are very fortunate in that we were given practically everything that we have asked for. This greatly facilitates all the creativity, all the processes and new techniques to develop new dishes, or shall we say, concepts.
México Destination Club: When you cook on a personal level, whether for your family or friends, what differences could we detect compared to a dish created for your restaurants?
Chef Franco Maddalozzo: I put the same passion at work and when I cook for myself, and I can swear to you, when I cook for myself, for my friends, my house… nothing changes. The instinct is always to give the maximum, to give it your all… the same is true of us chefs.