Chef Carlos Gaytán opens HA' at Hotel Xcaret México
Hotel Xcaret México Opens HA' Restaurant Hosted by Michelin Starred Chef Carlos Gaytán
The new restaurant is bringing Gaytán's extraordinary talent back to Mexico, offering a way to taste Mayan and Mexican cultures
The new HA' restaurant, hosted by famed Chef Carlos Gaytán, opened on June 22 in the Hotel Xcaret Mexico, a vacation haven framed by the natural majesty of the Riviera Maya.
We are not going to serve meals or dinners, we are going to create personal experiences for each guest

Chef Carlos Gaytán
Gaytán said, reflecting on his new establishment, a crisply industrial space, its glass enclosed dining room overlooking fountains and palms. "This is more than just a restaurant. It is a way to taste and experience Mayan and Mexican culture."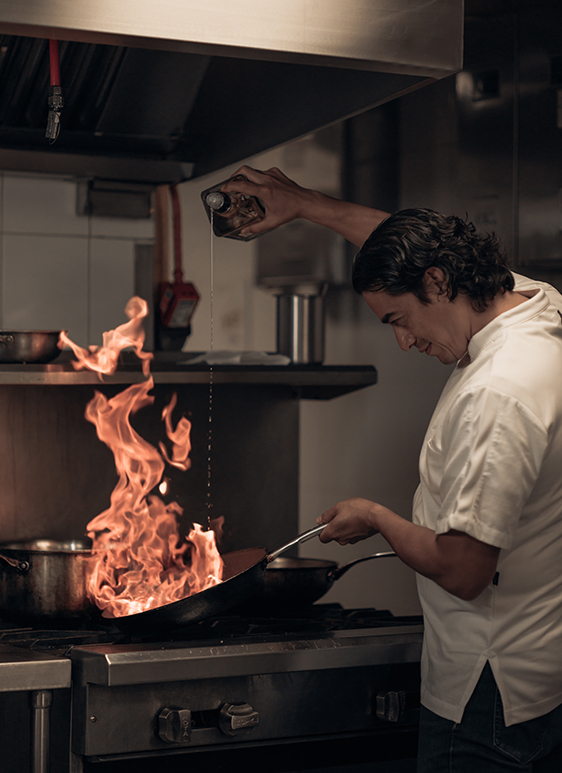 Among the dining choices will be an elaborate 7-course tasting menu, perfectly paired with wines, along with many other options. The goal is to serve exquisite food and drinks that carry a significant meaning and an inviting story to guests seeking a new experience.
An immigrant success story who embodies the American Dream, chef Gaytán rocketed to fame as a contestant on Top Chef USA. The multiple-award winning super-star began humbly though, moving from Mexico to Chicago in 1991, starting out as a dishwasher. Gaytán progressed quickly through the restaurant world, working his way from pantry cook to line cook at Sheraton North Shore Hotel. He then worked in other renowned Chicago restaurants before opening Mexique in 2008.
In 2011, Gaytán was named Chef of the Year by the American Culinary Federation, and in 2013 he became the first Mexican chef to earn a Michelin star for his work at Mexique. Gaytán is proud to bring his experiences and talent back to his native Mexico.
HA' is one of Hotel Xcaret's ten unique restaurants, taking its name for the Mayan word for water. The restaurant's name and aquatic theme is one of the many ways the property honors the rich Riviera Maya culture that surrounds it. Ha' is a new amenity for the all-inclusive five-star hotel, serving as an optional adults-only restaurant with its own surcharge. The restaurant is perfect for a special evening during a vacation to remember.
The newly opened Hotel Xcaret Mexico is part of Destino Xcaret, a one of a kind tourism development spread across 915 acres fueled by a two-billion-dollar investment of 100 percent Mexican funds. The property's unique All-Fun Inclusive® combines all the best of Mexico the resort offers from romantic culinary journeys to family fun with Experiencias Xcaret Parks and Tours.
As México Destination Club member, take advantage of your special price and enjoy the great cuisine from Chef Carlos Gaytán
About Hotel Xcaret México
Hotel Xcaret Mexico is an opulent, oceanfront haven where thrilling nature-driven experiences, superior service and the authentically rich spirit of Mexico come to life. Situated by the azure blue Caribbean Sea and verdant Riviera Maya jungle, the premier all-inclusive resort features striking architecture and design inspired by Mexican traditions, art and culture which reimagines the possibilities of luxury all-inclusive hospitality. Complete with 900 spacious guest suites, 10 distinct dining destinations, multiple swimming pools, a world-class spa and wellness center, the hotel offers guests all the perks and privileges of its exclusive All-Fun Inclusive® concept, where travelers are privy to Experiencias Xcaret's eight nature parks and archaeological tours, free airport transportation and more. Hotel Xcaret Mexico promises an unforgettable experience where guests can discover new ways to connect with nature, themselves and loved ones. For more information, visit http://www.hotelxcaret.com
---
Engineer by profession … currently in Digital Marketing.