Xcaret Yachts: Turquoise Splendor in the Mexican Caribbean
Embark on a new perspective of the Riviera Maya aboard our exclusive yachts
Nestled near La Casa de la Playa, Marina Destino Xcaret stands as the gateway to set sail into the marvelous shades of blue that paint the Caribbean Sea. Anchored here are the ultra-modern yachts that comprise a fleet dedicated to providing exclusive, personalized, and unforgettable tours.
Resting by the docks, the Vanquish yachts named Xcaret Serena (for 14 passengers) and Xcaret Shaloha (16 passengers) dazzle guests and members from the very first glance. Alongside them are the Azimut yachts, Xcaret Divertida (18 passengers) and Xcaret Contenta (20 passengers), perfect for celebrating a special occasion with your loved ones or friends.
Exclusive Benefits for México Destination Club Members
With the constant goal of adding more extraordinary experiences to your already extensive list of benefits, México Destination Club offers all of its members the exclusive Xcaret Yacht Club membership, which provides a limitless 50% discount on any Xcaret Yachts tour.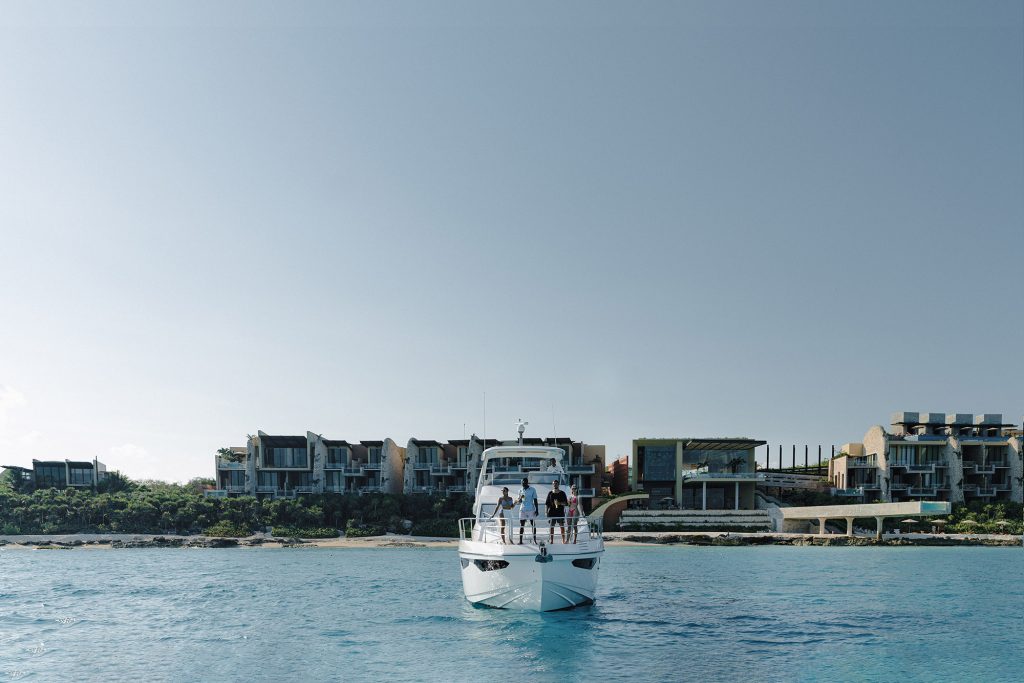 All vessels feature three cabins for added comfort and include services such as an open bar with premium beverages and delightful canapés. The included snorkeling equipment allows you to pause and contemplate the scenery beneath the surface of the Caribbean Sea.
Whether you prefer to have breakfast, lunch, or dinner at sea, you can add the desired service, prepared on board by one of our talented chefs. Additional details, such as a champagne or sparkling wine toast, digital photography packages, or a personalized on-board session to immortalize your special celebration, are also available.
While the tours typically last for four to six hours, you can add extra hours to extend your experiences and memories, crafting a customized route within designated maritime boundaries.
If you have awakened the desire to sail the tropical waters of the Riviera Maya, we invite you to book a tour by accessing the "Book" section on the community platform for members.
Indulge in the new nautical experiences of Xcaret Yachts and make the most of the benefits of the Xcaret Yacht Club membership, exclusively for México Destination Club members!