Hotel Xcaret Arte awaits for you
With its grand opening coming up very soon, we'll share with you important details about this new and fascinating resort
As we walk through the sumptuous spaces at Hotel Xcaret Arte, we can see that there is a very particular purpose lying in every architectonic style, detail, color, texture and atmosphere that is revealed to us: to enhance the cultural wealth that has been in continuous development for more than 3,000 years of progress in Mexican art, from its first pre-Hispanic manifestations to present day.
The ambitious vision for this new hotel in Riviera Maya was so big that the result was bound to be spectacular. And when you step off the included transportation and tour the property for the first time, you can guess why these new sensory experiences will never cease to amaze you.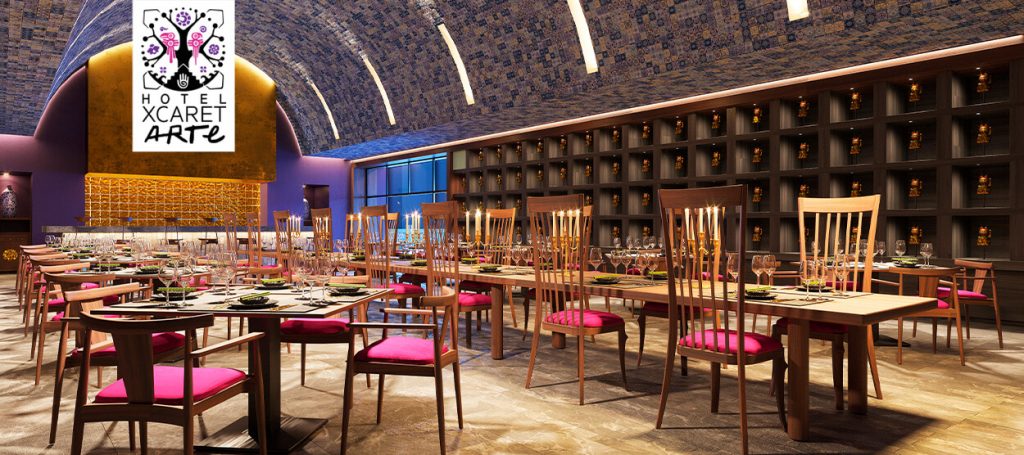 Unique Welcomes
Although Hotel Xcaret Arte is presented as a single property, you will actually be exploring five boutique hotels that are as different as they are equal – ironic as it may seem – that pay tribute to the abundant and often eclectic art that Mexico has built across the ages.
These five hotels, called Casas, are connected to Casa del Patrón, which boasts the spacious Jardín del Arte. 
The area houses the main motor lobby, to which you will arrive in one of our exclusive transportations (buses, shuttles and exclusive vehicles for our distinct membership levels) and from which you can depart to our Parks and Tours or Cancun International Airport.
However, although you will receive a first welcome at the Jardín del Arte, your check-in will not take place here, but in an exclusive lobby at the Casa where you will be staying, which allows us to speed up our processes and avoid saturating spaces.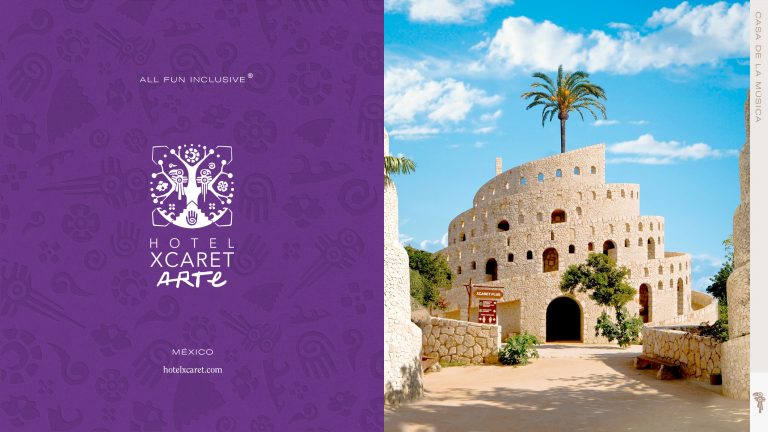 The Five Casas at Hotel Xcaret Arte
Although Hotel Xcaret México presents a collection of the most representative of our country's culture, the great immersive experience into art is about to begin with Hotel Xcaret Arte. Each of our Casas was designed to invite you into an introspective journey to discover their inner creators, participate in an interactive workshop and generate a work yourself during your stay, which you can take home.
As you stroll through the property, you will notice that our 900 suites are named after famous Mexican artists, masters of our arts and crafts, honoring their life and work. In your suite, you will find a book specially created to provide you with more detailed information with the profile and careers of the creators chosen for the resort.
Casa de los Artistas stands out as a private residence, reserving its facilities, among which the Kibi Kibi restaurant by chef Roberto Solís stands out, an infinity pool with an iconic glass swimming lane, a rooftop bar, a beach bar and its own exclusive gym only to members and guests staying here. The rooms are dedicated to painters, sculptors and artists who marked a milestone in Mexico's visual arts.
The Painting Workshop is nestled in this House, where you can take lessons in watercolor, drawing and linoleum engraving.
Casa de la Música is dedicated to the mythical musicians, composers and singers who led this art's evolution, from mariachi, a worthy example of an "Intangible Cultural Heritage of Humanity", to ballet and contemporary rhythms. When staying in this Casa, your suite's balcony is transformed into a preferential box seat that will provide an excellent view of the Teatro del Agua, our main forum for theatrical performances, supported by state-of-the-art technology and a creative water show to complement the experience. At its rooftop bar you will find the only musical pool in the entire Riviera Maya. At the Dance Workshop, you will find different rhythms to master: mambo, salsa, bachata and cumbia.
At Casa de la Pirámide you will find master craftsmen and artists who prefer carving in bone, stone or wood. The work of those who once built the pyramids and pre-Hispanic buildings is honored in its very structures, using stone to enhance the architecture.
If you've ever wanted to create using just your hands, the Pottery Workshop offers you several options: pottery, hand-casting, lathe, and ceramic painting.
Casa del Diseño goes out of its way for architecture, traditional textiles and Mexican haute couture. It has a privileged location in front of the sea and therefore, boasts a beautiful rooftop snack bar, swimming pool and excellent music by our DJ.
You can find the Artisan Weaving Workshop here, built in a space that integrates the backstrap, pedal and vertical loom, keeping traditional mechanics alive.
Casa de la Paz honors the artists who wield their pens as swords, our most representative writers. Unlike the rest of the Casas, you will not find any bars or pools, but a beautiful rooftop deck to practice aero yoga, with an excellent view of the Caribbean Sea and thus, find the balance within. As if that were not enough, Casa de la Paz is also home to a new version of Muluk Spa & Wellness®, a sanctuary where you will become the alchemist of your own treatment, choosing the ingredients from our vast pharmacy.
To learn excellent techniques, recipes and methods to eat better, you can take classes in the Healthy Cooking Workshop, with excellent vegan, vegetarian and organic options, taking ingredients from a special garden where we grow different vegetables and spices.
Lobby, Workshop, Store and Concierge in one
The innovative idea of integrating an exclusive lobby in each Casa helps to integrate each one to their particular identities. Here, you can book the workshop you want to experience and the schedule that best suits you. In addition, the lobby will integrate Concierge services, including those exclusive benefits for Mexico Destination Club members, so any request can be made right here.
Finally, the lobby also provides an easy access to both the art workshop and a store where you can buy products of all kinds, including some extra materials to use in the discipline that you like the most.
Gastronomy: a different kind of art
From its conception, Hotel Xcaret Arte also aims to take its culinary offer, one of the fundamental pillars of the All-Fun Inclusive® concept, to a new level, bringing together a team of Mexico's top celebrity chefs, as well as some international guests to delight members and guests with creative signature proposals, national reinterpretations of international dishes and exquisite fusions to amalgamate techniques and ingredients. Here is the complete list of restaurants at Hotel Xcaret Arte:
Arenal
Chef Orlando Trejo, boasting an escalating successful ten-year career at Grupo Xcaret, adds a special spin to a comfort food menu, set in a pleasant facility facing the Mexican Caribbean Sea. Ideal to go for a gourmet snack after a few hours sunbathing.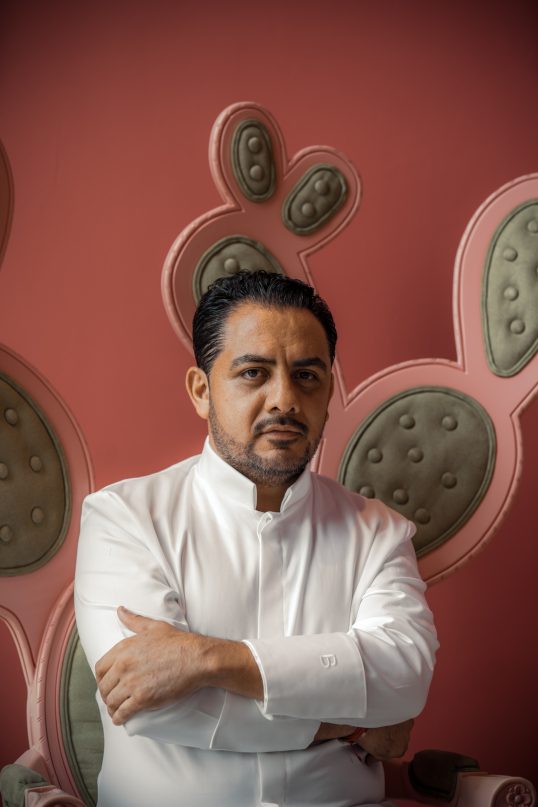 Xaak
Xaak offers a modern perspective to the pre-Hispanic influences on regional Yucatecan food, led by chef Ricardo Muñoz Zurita, the highest authority on the subject; thirty years ago, he produced one of the most important compendiums in Mexican cuisine, the "Encyclopedic Dictionary of Mexican Cuisine."
Encanta
Among the Mexican chefs who have earned a Michelin Star, Paco Mendez stands out for how soon he obtained it. In just one year, his flagship restaurant, Hoja Santa, earned this distinction. For this reason, he earned a honor place at Hotel Xcaret Arte, where he now shows a new personal proposal at Encanta.
Kibi Kibi
After a period of international learning, chef Roberto Solis presented an innovative reinterpretation of Yucatecan cuisine in Merida. At Hotel Xcaret Arte, this same vision is taken to a new level by merging with Lebanese cuisine at Kibi Kibi restaurant, exclusively for guests and members at Casa de los Artistas.
Cayuco
Renowned chef Franco Maddalozzo, who has already conquered hearts at Hotel Xcaret México, enters Hotel Xcaret Arte with an interesting mix of Mediterranean and Mexican flavors, under the lens of a renowned Italian gourmet.
Mercado de San Juan
In the second restaurant run by chef Ricardo Muñoz Zurita at Hoteles Xcaret, revised versions of classic Mexican snacks are presented, framed in the festive atmosphere of a typical Mexican market.
Chino Poblano
With flagship dishes embedded in the Mexico's culinary memory such as mole, Puebla cuisine salutes China's culinary traditions at the hands of chef Jonatan Gomez Luna, the leader of a generation of chefs who continue to triumph internationally.
Tah-Xido
From the mind behind Xin Gao, chef Luis Arzapalo, comes Tah-Xido, a contemporary proposal that integrates tepanyakkis to prepare food in front of your eyes, with the most striking spatula skills included.
Cantina VI.AI.PY.
Mexican charisma coats this modern version of a typical Oaxacan cantina, with dishes and cocktails carefully conceived by chef Alejandro Ruiz, a promoter of sustainability in restaurants and the culinary culture of Oaxaca.
Healthy Cooking Line
For those who follow a more strict and healthy diet, chef Miguel Bautista integrates a line of vegetarian and vegan dishes in each of our restaurants.
Towards a new level of entertainment
The artistic magnificence that beats in every corner of the property has also led us to design new sensory experiences that incorporate the best traditional elements with cutting-edge technology.
Thus, you will be able to enjoy the Teatro del Agua, our main forum, which will be carrying out different plays, musicals and concerts supported by a spectacular water show, both around the theater and the fountains nearby.
In contrast, keep an eye out for our daily happenings that take place in various parts of the Hotel, as well as fun puppet, alebrije and mime shows.
In addition, you will be able to practice the steps learned at the Dance Workshops in both Cantina VI.AI.PY., and in our fabulous speakeasy El Deseo, with live music by resident bands like La Xiquita, Xibaljazz Band, Xharp Fusion, Jazzkan Trio and more.
Do you want to live an unforgettable year? Make it the year you traveled to Hotel Xcaret Arte!
Call our Member Services Center or access your profile at www.mexicodestinationclub.com to book an incredible lodging with us.
Engineer by profession … currently in Digital Marketing.