Learn how your Concierge can help you experience magical moments
The journey to your dream vacation starts with the Precontact Letter
While enjoying a well-deserved vacation at Hotel Xcaret México, there may come a moment in which we realize that a single trip may not be enough to discover and explore all the activities included in the unique All-Fun Inclusive® concept.
It's at this point where a México Destination Club membership comes in handy, due to its preferential lodging rates, promotions, exclusive benefits and discounts available every time you want to return and discover more of the hidden wonders in this majestic paradise in the Mexican Caribbean.
The Precontact Letter and the vacation experience design
One of the aforementioned benefits is the Concierge assistance before and during your stay with us, who will gladly help you design your next vacation experience with us.
Starting with the Precontact Letter, the Concierge conducts the member on a journey that will take him to imagine the perfect customized activities based on the member's wishes and purposes. Thus, if a member is taking a family trip, the Concierge will suggest integral options aimed towards fun and adventure, like the ones at Xcaret and Xplor parks.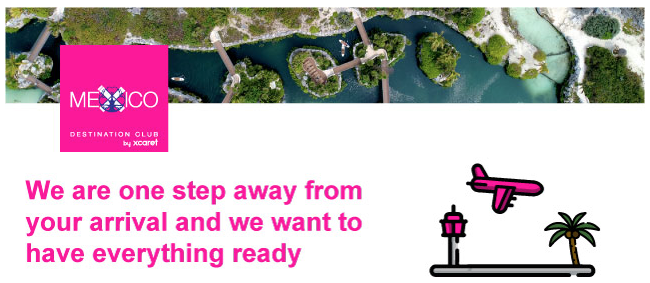 If, on the contrary, a member is arriving with a more romantic plan, the options could include intimate moments at the Hotel Xcaret México's restaurants, such as HA', Las Cuevas or the bar at La Cantina Los Faroles, as well as a fun evening aboard a trajinera at Xoximilco.
Those who enjoy relaxation may combine a visit to Xel-Há Park with a treatment at Muluk Spa, and a fabulous sensorial trip to Xenses.
How does the Precontact Letter work?
You will receive the Precontact Letter fifteen days to a month before your arrival at Hotel Xcaret México, therefore it's very important that you check your email regularly before your trip. From your answers and preferences stated in the document, your Concierge will start to get in touch in a more casual way, attending your every request and planning a schedule as detailed as you like it.
It's also important to stress that, depending on the 360° Xafety measures valid at the moment of your arrival – including social distancing in closed spaces such as restaurants and bars –, the demand for seating in some establishment may rise, making early booking a very useful tool.
Magical Moments
Hotel Xcaret México has been the scenario for hundreds of magical moments created especially for our members; its architectonic beauty and its dream locations have witnessed emotive moments like marriage proposals, lavish weddings atop the Xpiral pyramid, romantic honeymoons at the exclusive Casa Fuego and much more. All the necessary arrangements for a great surprise or a family celebration may be stated during the Precontact process.
Private Tours at Our Parks
Magical moments are not limited to the premises of the resort. On the contrary, you as a México Destination Club member have privileged services at each of our Parks and Tours, including guided tours. If you wish to know more about this option, ask you Concierge about it during the Precontact process.
Customized Welcome
In the same way your magical moments are managed, a Concierge may also give you a customized welcome in unique and creative ways. If you are celebrating a special occasion or if you have an idea to celebrate a special one upon his/her arrival to the Hotel, talk about it with your Concierge during the Precontact process.
Private Check-In
The fabulous X-Lounge is the ideal place for an exclusive check-in for México Destination Club members. It features a snack buffet, bar, and comfortable resting areas for you to enjoy while the process is completed.
Extended Attention to your Guests and Referrals
The Concierge services are also extended to the guests you bring to the property, so take advantage of this benefit to travel with your friends or Xhare Program referrals, and share an Extraordinary All-Fun Inclusive® vacation with them.
Engineer by profession … currently in Digital Marketing.