Culinary Profiles at Hoteles Xcaret: Orlando Trejo
"Food comes in through your eyes and is tasted with your soul," says the Executive Chef at Hotel Xcaret México, who granted us an interview.
With a culinary style governed by his attachment to traditional gastronomy, chef Orlando Trejo's professional career has developed alongside his trips to several states in Mexico, where he learned and mastered the secrets of traditional Mexican cuisine, until he became one of the most important exponents in the country.
His distinguished career captured the attention of Grupo Xcaret, and in 2012 he was named Executive Chef at Xcaret Park, where he delighted millions of tourists with his proposals and star dishes. Later, in 2017, he became Executive Chef at Hotel Xcaret México, where he was tasked with leading the twelve restaurants with different specialties that make up its gastronomic proposal. He was also chosen to join the Gastronomic Collective at Hotel Xcaret Arte presenting Arenales, a comfort food restaurant with an excellent view of the Caribbean Sea, which will offer top quality snacks.
In this interview for México Destination Club, chef Orlando Trejo recounts his experience collaborating with Grupo Xcaret to keep the autochthonous flame alive and spread the typical flavors of our country to the whole world.
México Destination Club: Being the chef in charge of such important restaurants, as the ones found at Hotel Xcaret México, is a great responsibility. What does it mean, to be in charge of all the restaurants of this great project?
Orlando Trejo: It is a huge, immense responsibility, because there are 900 rooms, or just over 2,000 guests when we have a full house. Commitment and passion is the part that I can transmit to my team, because then I am also behind each kitchen. The training, the commitment and the passion of being with them doing briefings, seeing the concepts, all that makes the team really passionate, and we express all that passion through our dishes. It is a truly big responsibility, but when you like something, you do not feel it.
MDC: What do you think differentiates the gastronomy at Hotel Xcaret México?
OT: We always try to give the best. First, by offering a good quality product, with a good recipe, a good technique. We are looking for honest food, full of flavors and traditions. We have a list of chefs in the Gastronomic Collective (…) who also have that same objective, which is our love for Mexico and its cuisine. So we deliver the best of Mexico culturally, gastronomically, and offer it in a dish to all our guests.
MDC: Hotel Xcaret México is a place that boasts the very concept of Mexicanity, and Mexican culture is always full of naughty puns. Can you tell us about how naughty puns are implemented into the concept?
OT: It is a part of what architect Miguel Quintana always asks of us: creativity. There cannot be simple dishes, cocktails, or buffets, we must always look for everything to be a conversation point, something must be discussed at the table, perhaps the way it was presented to you. Creativity without falling into vulgarities, without falling into the "it looks ugly, it does not have good taste", we are always taking care of those details. I think that is also one of the points that make us totally different from others.
MDC: Speaking of your particular cooking style, what is the concept that you have focused on the most?
OT: I love Mexican cuisine, and my cooking style is contemporary Mexican cuisine, focused 100% on the product. I have been in this state for fifteen years and I have tasked myself with investigating different places in the Yucatan Peninsula, finding new flavors, new fruits, fish, meat, techniques that I did not know. It attracts me and I really like to enhance that part; I do not know if I will move to another place or state tomorrow or one of these days, but I will arrive to do the same thing completely; I will focus on the ingredients, people, markets, butchers… There is also a bit of creativity and design on the plate. For me, food comes in through the eyes and is savored with the soul. I like the dishes to be beautiful and colorful, but one hundred percent rich and tasty.
MDC: When you come home after work and say "I'm going to make something nice", what would you make at home?
OT: Well, before I get home, I buy some tacos al pastor to start with. Then, at home maybe I'll have a slice of sourdough bread, a good sourdough bread, avocado and hot sauce and go to sleep, but first some good tacos.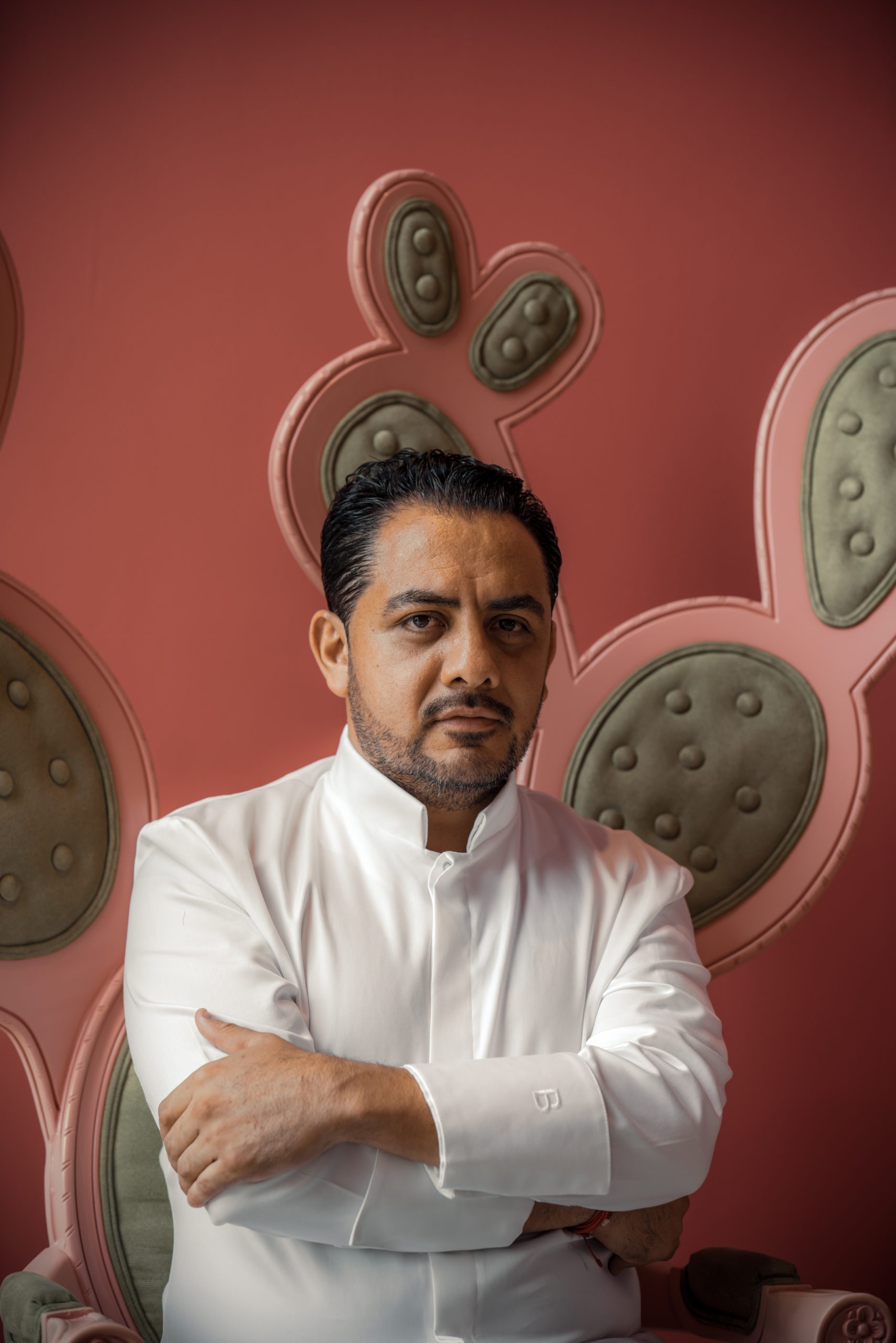 MDC: Is that your favorite dish?
OT: That's right.
MDC: You are the Executive Chef of the Hotel, and you are not just in charge of a single restaurant, but all of them and you also lead a team of nationally and internationally renowned chefs. What does it feel like, what challenges come with working with people like that, and also to lead this whole concept?
OT: They are good people, they are professionals. I think it is very clear to all of us what our job is. Obviously, there must be a leader, and as you say, I am responsible for the gastronomy of this hotel. They will be there for a few days, they implement recipes, menus and we follow up from there, supervising the tasks. Yes, it is difficult because each head is a world, but I also learn a lot from them.
MDC: How have Hotel Xcaret Arte and Hotel Xcaret México contributed to taking iconic Mexican cuisine to a new level?
OT: I think it is one of Grupo Xcaret and architect Miguel Quintana's main values is consumption of Mexican products. There is a saying that I love: "think global and buy local". I really believe that this is one of the pillars that have made Mexican gastronomy to be found all over the world today, and in this Hotel we really receive nationalities from all over the world.
MDC: How are Sustainability concepts applied in the Hotel kitchens?
OT: Sustainability in the kitchen is also paramount today. Regarding cleaning, our chemicals are fully biodegradable, none of our products are corrosive or aggressive to nature. Our garbage is completely separated, we have a compost in which we separate all organic and inorganic waste, such as cans or glass. We have reduced the entire use of plastics in almost 80%. In the culinary part itself, sustainable fishing is one of the points. One of the products we consume is the Mayan octopus, and it is a sustainable type of fishing because the females are respected; fishermen do not use boats, so they do not pollute the sea; it is a sustainable artisanal fishery, and all our fishing is pretty much the same. We do not have fish in closed season; when the lobster is in closed season, we do not buy it, and if we do, it is done through an inventory invoice that shows that the product was caught outside the closed season. All this makes our fish dishes sustainable products.
MDC: What influences from the global gastronomy are used to complement the culinary experience at Hotel Xcaret México?
OT: We receive tourists from all over the world, and some of them ask us for some imported products or food, which I think is normal and valid. From there, we also have certain restaurant concepts such as Japanese or Italian, where we have ingredients and recipes from different parts of the world. But as I mentioned, all the dishes carry a Mexican touch. We do have that influence, totally from Italy and Asia. We are always looking for techniques from other places but transformed in Mexico, my mindset is that we are very, very open to everything.
MDC: Can you tell me a bit about the differences between Hotel Xcaret México and Hotel Xcaret Arte?
OT: Gastronomically I think they are very, very similar. There will be more chefs from the Gastronomic Collective (at Hotel Xcaret Arte), it will be heavier there. But as far as the culinary experience is concerned, both gastronomic concepts will be very similar in their creative Mexican experiences. Maybe in terms of concepts it will be a little different, there will only be adults (+16 years old) at Hotel Xcaret Arte, so that allows you to make gastronomy a little more daring. In the end it will be similar, obviously each chef will give their contribution totally different. The interesting part between us is creating new things for the new product.
MDC: Can you tell me a little about how the Mexicanization of dishes works in a concrete way in the gastronomic fusions that can be found in the Hotel Xcaret México?
OT: In our events, groups, at weddings … our creative part of montages likes this Mexican part and in gastronomy (Mexicanity) is always reflected. From a pizza, which is something Italian, to which we add a dash of pumpkin flower or serrano pepper, to other different things, as in the case of the Japanese restaurant, since we have used escamoles, grasshoppers, different types of local sea creatures and Mexican fish. The fusions are interesting and make an international dish into something more Mexicanized, but totally different. You can find this Mexican fusion in different concepts, from HA 'restaurant, which is Carlos Gaytán's cuisine with French touches, but always enhancing that Mexican part; chef Franco Maddalozzo's restaurant is conducted in the same way, and the Asian one as well. That fusion helps a lot because you have more contributions, more ingredients and this makes your dish totally different.
MDC: Can you tell us how the delicious street food in Mexico is incorporated into a concept on the level of Hotel Xcaret México?
OT: Even though we are a 5-Diamond Hotel, we never wanted to leave Mexican street food out of the menu line, and that is why our main avenue had esquites, famous tripe, suadero, chorizo and steak tacos that people love and adore… so we take care of each part. The concept is that we do not feel sorry "for having our napkins hanging from there", or for having sodas of a specific brand, because this is really how you live on the streets of Mexico. We have sweet potatoes, bananas, cotton candy, a baker, a corn seller, esquites (a snack made with corn)… fruit with spicy pepper, Mexican-style ice creams… street food is also a part of our Mexican cuisine, and it has to be here.