Hotel Xcaret México was awarded in the "Obras del Año 2018" ceremony
This awards, recognize and celebrate the constructions with more contribution and transcendence for Mexico in design and technology, among other concepts
Hotel Xcaret México, the hotel that revolutionize the industry with the All-Fun Inclusive® program, was recognized in 3 categories on the 15th edition of the "Obras del Año" awards. The hotel won the recognitions in Economics Innovation, Tourism and Hospitality; and People's Choice, this last one on popular vote. This awards are celebrated annually by the Obras Magazine to identufy and award innovations on the construction industry, through their buildings, works and infrastructure and developments.
Te ceremony, celebrated last August, 8th at the Live Aqua Urban Resort, reunite construction professionals to learn ore about the projects that are pushing the best practices and technological advances in Mexico, and celebrate another edition of this awards.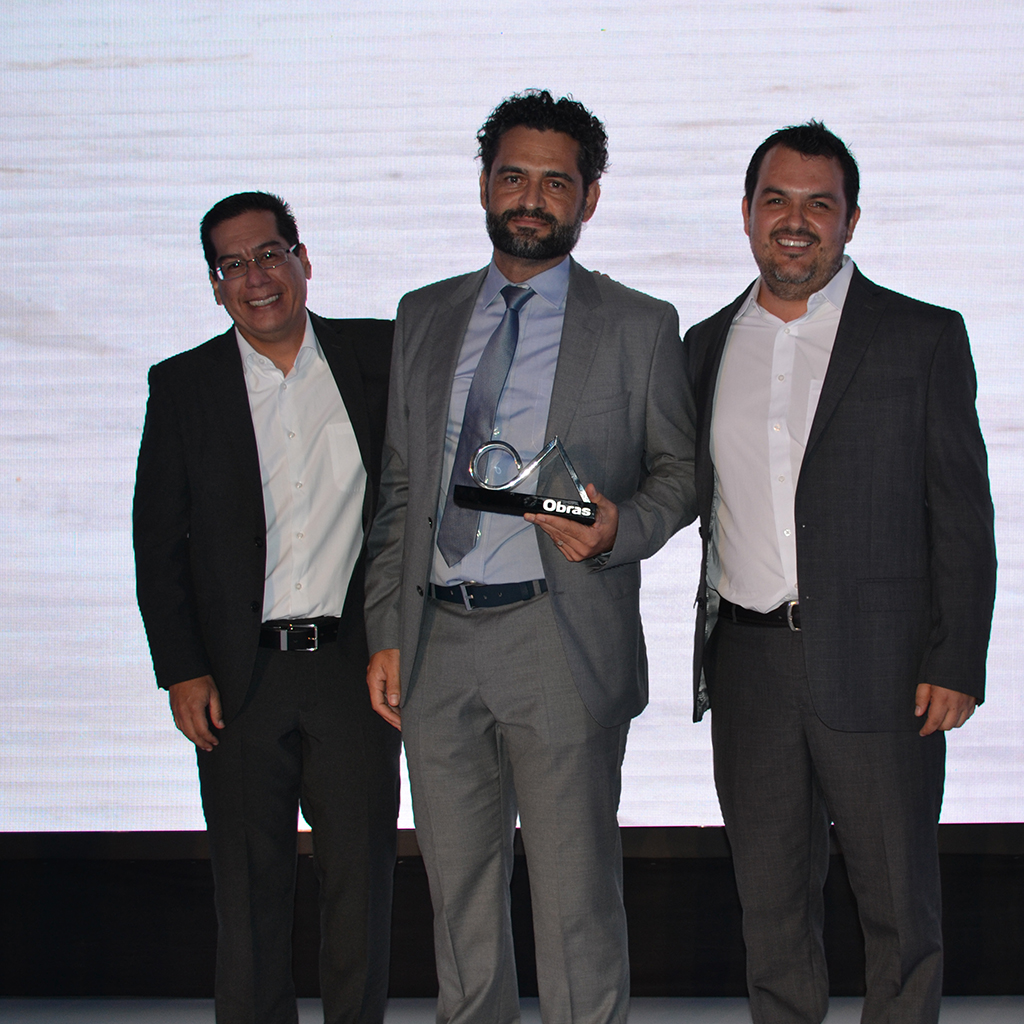 "This night is very special for us, because besides our 15th celebration, for this edition we received more than 200 applications and 175 constructions that means more than 42, 000 millions of pesos, what show us the great investment in our country" said Jesús Hernandez, General Editor of Obras Magazine during the event.
Hotel Xcaret México was finalist in 3 of the 13 categories presented, including the special awards, obtaining the maximum recognition in 2 of them.
Also, Hotel Xcaret México was awarded with the People´s Choice to the best construction of 2018, a special recognition where the people choose the winner. Among 29 participants, the hotel received more than 2,500 votes on the webpage of the magazine. To receive the prizes were at the ceremony the architects, David Quintana, Executive Director of Innovation and Development of the Experiencias Xcaret Group, Benito Ruiz and Leopoldo Alcantar, Deputy Manager and Project Manager of GEX Xdifica. Xdifica is the builder company responsible of the 900 suites development.
It is a great honour being here tonight, looking the great jobs all over the country and their contributions, not only architectural but social and enviromental. Since we started planning the Hotel Xcaret México, more than 10 years ago, we looked for something completly different of what already have done, something to allow to preserve ecosystems and enhance them, something to reach a perfect accord with the environment, and, also, allow is to elevate our love for Mexico. After years of planning, enviromental studies, projects, trails and construction, we achieved the formation of Hotel Xcaret México

Architect David Quintana
Hotel Xcaret México was designed on an ecointegrator focus and landscape, a style that honours the nature, and incorporates the experience, that finally results on a natural retreat where beaches, rivers, coves, pools, hanging bridges and a pyramid, cmix and mingle in the same space. The design of this luxury and innovator hotel was on charge of the Architect David Quintana Morones.
Source: Press office Hotel Xcaret México
---