Pack your bags for a holiday party at Hoteles Xcaret!
Still don't know how to celebrate with family or friends? Look at these options! 
Nothing like a vacation in the Mexican Caribbean to break the routine and add flavor to Winter holidays. Whether to escape the cold weather, crowds or traffic, an All-Fun Inclusive® vacation at one of the Hoteles Xcaret redefines the value of having fun completely free of worries.
But to make your trip an experience like no other, it is often necessary to go one step beyond, try out new options and discover new relaxation and fun options at Hoteles Xcaret. Here are some ideas:
Book a family or presidential suite at Hotel Xcaret México 
If you have already visited Hotel Xcaret México, we invite you to rediscover a stay at this wonderful family hotel in the Riviera Maya from a suite that offers you the ultimate in space, panorama and comfort.
The presidential suite at Casa Fuego is nestled in an adults-only environment, and features a beautiful lounge-type terrace with a frontal view of the Caribbean Sea, an outdoor Jacuzzi, private pool, and a spacious environment lined with exquisite pieces of Mexican art.
Casa Tierra's presidential family suite becomes the ideal environment for the long-awaited New Year's reunion, presenting a spacious room with its own terrace facing the Caribbean Sea, a private dining room and an outdoor Jacuzzi.
At Casa Viento, the presidential suite is located very close to the family pool, placing it very close to the facilities and activities for children.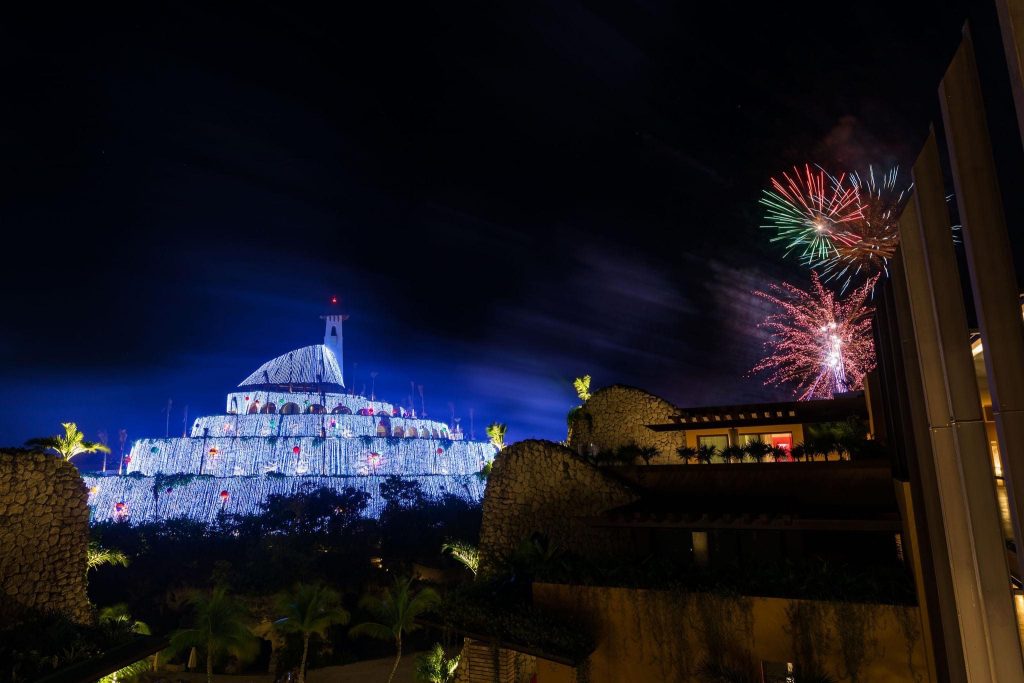 Master an art and bring souvenirs home made by you from Hotel Xcaret Arte 
Hotel Xcaret Arte boasts four artistic workshops that want to provoke a reconnection between you and your inner artist, so assisting at one with your significant other is not only a very original idea to try something different or forgotten for a long time, but also to produce a handmade souvenir for your loved ones.
In the New Year, rediscover desire at El Deseo  
Enjoying the New Year's festivities as a couple takes on new nuances when daytime fun is framed in an adult friendly environment and boasts different bars, both in the property's pools and on its rooftops.
Come nightfall, however, a different vibe emanates from El Deseo, the property's sumptuous speakeasy. With low lighting that makes shadows a new element for romance and smooth jazz music, El Deseo will envelop you in satiny sensuality and invite you to reignite your desires.
Live Tailor-Made Experiences at La Casa de la Playa 
La Casa de la Playa has earned a special place in the hearts of guests and members thanks to the set of sustainable luxury amenities, integration with the environment and exclusive experiences both on site and at Grupo Xcaret parks.
To name a few options, you can take part in a purification ceremony prior to the first chimes of 2023 with a guided ritual inside a temazcal at Xel-Há; taste a selection of wines personally chosen by the famous sommelier Sandra Fernandez, pairing with exquisite delicacies and a table of imported cheeses; enjoy a beachfront dinner that includes a tasting menu and a selection of wines also by sommelier Sandra Fernandez.
Of course, your travel goals, the time you prefer to spend at the hotel or in the parks, and the wishes of your loved ones are sure to enrich your vacation plans.
Remember that reserving your accommodation in advance through the México Destination Club website www.mexicodestinationclub.com, will provide you with better rates online thanks to the incentives for early reservations. What do you think is the best way to celebrate an All-Fun Inclusive vacation at Hoteles Xcaret? Consult ideas with your family and friends and say goodbye to this 2022 with the best plans!