México Destination Club gives you a vacation at Hotel Xcaret México
Join our contest "Hotel Xcaret México in one image"
As part of our Second Anniversary celebrations at México Destination Club, we invite you to take part in our contest "Hotel Xcaret México in one image" to win a 4-day, 3-night stay in our wonderful All-Fun Inclusive® Hotel.
To participate, upload a creative photo to our Facebook page, that represents or hints at one of the attractions from Hotel Xcaret México you would like to enjoy the most during your next visit. You can share any image about the Hotel that represents any space, moment, activity, landscape, show or gastronomy. The image must include a short description. Remember to use the special hashtag #MexicoDestinationClubYear2.
There will be 3 winners: the first prize will obtain a certificate for a 4-day, 3-night stay at Hotel Xcaret México; the second prize will get a special photo session at the Hotel's gorgeous scenarios; and the third prize will win 500 Club Cash for use at Muluk Spa & Wellness® .
The winning image will be the one with most "likes / reactions" at the end of the contest.

PARTICIPATION BASIS
The contest is open to all México Destination Club members with an active and with no debts on their membership.
The photos must be uploaded to our Facebook Page starting on December 1 at 00:00 h, until December 31, at 23:59 h (Cancun Time Zone).
The winners will be published in our Facebook (http://www.facebook.com/MexDestination) page and directly contacted by email on January 15, 2020.
To be a winner, you must confirm your México Destination Club membership number.
México Destination Club reserves the right to disqualify (and eliminate) any photo or comment taht proves to be offensive or that does not fulfill the participation basis.
The photos must be original images from the member; the use of stock images will not be allowed.
Images with people in first foreground won't be able to participate.
Collaborators (and relatives of) working at Mexico Destination Club, Grupo Xcaret or their subsidiaries are not allowed to participate.
The photos may represent spaces, moments, activities, landscapes, shows or gastronomy.
Images only can be submitted by the owners and beneficiaries of the membership.
The certificate will be uploaded directly to the winner's account and will be valid for 12 (twelve) months, beginning on January 15, 2020.
When participating, the members concede all the image rights to México Destination Club, to be used it with the purposes that the company chooses, including, but not limited to Grupo Xcaret publications. México Destination Club (Talento Turístico Corporativo, SAPI de CV) will be the owner of all the copyrights and other intellectual property rights of all the materials.

Terms and Conditions of use for the 4 days – 3 nights certificate
This certificate is valid for a 3-day, 4-night stay at River View Suite at Hotel Xcaret México, for two adults, subject to availability.
This certificate is valid for one year starting on January 15, 2020.
It is necessary to book with a minimum of 60 days prior to your stay.
Reservations are subject to availability at Hotel Xcaret México and do not apply during Holy Week, Easter Week, Christmas and New Year.
It does not include airline tickets, airport-hotel-airport transportation, or any additional charges during your stay at Hotel Xcaret México.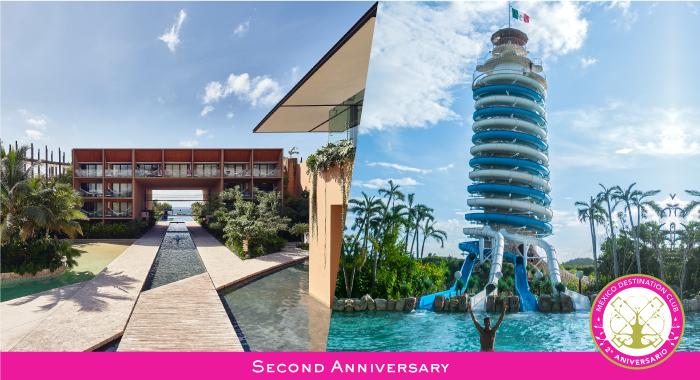 Terms and Conditions for Club Cash use
Club Cash certificates represent a real monetary value that can be used in the following concepts and under the following terms:
Applies in all Muluk Spa & Wellness® services and treatments.
In order to utilize your certificate, it must be signed and sealed by México Destination Club.
The coupon is valid for the duration of your vacation.
The face value of this is not redeemable for cash and must be utilized in full at time of purchase.
Non-transferable.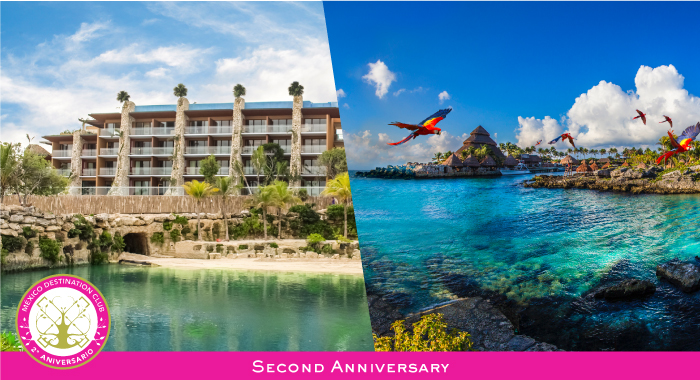 Terms and conditions for the photo session
This certificate is valid only during your stay at Hotel Xcaret México. ​
The maximum length for the session is 40 minutes.
You will receive a download link for 15 digital pictures.
Valid only for one session for the holder and companions in the same room.
The session must be booked at Concierge Desk during your stay at the Hotel.
The certificate is non-transferable or cashed out.
The session is subject to availability.
The certificate cannot be combined with other promotions.
The certificate does not include a photo album.