Awaken your best fitness side at Hotel Xcaret México
The outdoor spaces integrated into the natural environment are the ideal setting for exercising outdoors 
While one of the most recognized attributes of the Hotel Xcaret México is its wide and unlimited world-class gastronomic offer, we must also highlight the natural beauty of its outdoor spaces, which become the ideal settings to awaken your passion for physical activity in an idyllic setting to start 2021 in better physical shape.  
In addition to the "El Mamey" fitness center, fully equipped to continue the strict routines of all those who like to preserve their physical shape, as well as two other indoor gyms, there are also activities for those who feel their extremities a bit rusty. Here are some attractive suggestions for reshaping your condition: 
A refreshing swim through the rivers of the Hotel 
As one of the main pillars on which the hotels of Grupo Xcaret are based, the eco-integrating architecture under which our resorts are planned and built, goes far beyond mere aesthetics, transforming into a complete experience for guests and partners, where natural and artificial elements combine in a perfect symbiosis. 
Thus, our rivers, lakes and beaches offer much more than an impressive view to the harmony with nature, and they serve as recreational environments to enjoy, refresh and make the most of it. For this reason, we cannot fail to recommend a swimming stroll through these beautiful bodies of water that meander through the property, and offer unique corners to enjoy the warm waters of the Mexican Caribbean Sea, as well as unique perspectives at sea level.
Paddle Boarding and Kayak 
If you want to stay dry (to a certain level), we recommend opting for a leisurely paddling trip aboard a kayak or paddle board. Both activities require a certain level of balance, strength, and mastery, but since learning is part of the fun, you can have a great time exploring the best ways to move forward without losing your balance.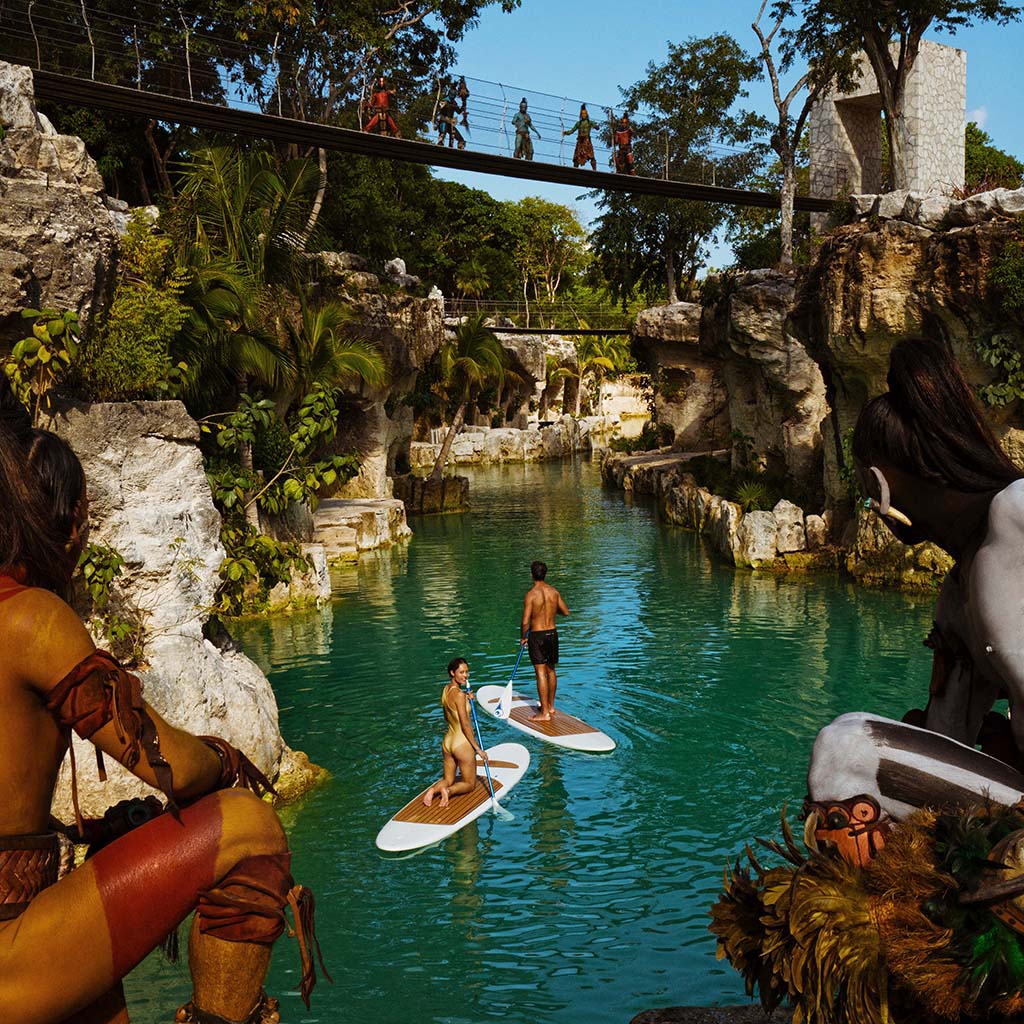 While the kayak can be used by two people at the same time, the paddle board becomes a more personal experience, although it can also be shared with someone else, each in their own environment. 
Either of the two options results in a magical experience that can be used for reflection and communion with nature, taking advantage of intimate moments to meditate, relax and renew mind and spirits alike.
Functional training circuit 
One of the benefits of functional training is the adaptability of its exercises to different levels of performance, condition and physical strength, and at Hotel Xcaret México you will be able to find a circuit designed for this type of exercise, on a route made up of islands connected through bridges, with obstacles such as hanging rings where you can implement your own routines that suit your rhythm and condition.
This area also seeks to serve as a link with Hotel Xcaret Arte, so its size and complete functions are in expansion, and will soon incorporate new areas and elements. Thus, the experience of traversing the complete circuit will fill you with the same satisfaction that Silvester Stallone's character experienced when climbing the stairs of the Philadelphia Museum of Art in the film Rocky. 
Engineer by profession … currently in Digital Marketing.