Take full advantage of our website
Explore and use all your membership benefits through our website
Our exclusive website offers more advantages than what meets the eye at first glance. If you are a new member, or if you haven't made the most out of your membership's advantages, this article may be very useful.
Besides providing important information about your membership, updates on your membership status, and a special welcome by México Destination Club, you will also find the most simple, safe and secure way to book your lodgings at Hotel Xcaret México, with the best public rate and its special 25% discount for members. The process for your reservations is made through software and search engines that meet the highest informative security, shielding your account data and sensible information completely.
You will also be able to consult the exclusive offers and promotions for the vacation club's members, our efforts in Xustainability, and the participation basis for the Xhare Rewards referral program, where you may obtain free lodging nights for referring your friends and family to visit Hotel Xcaret México.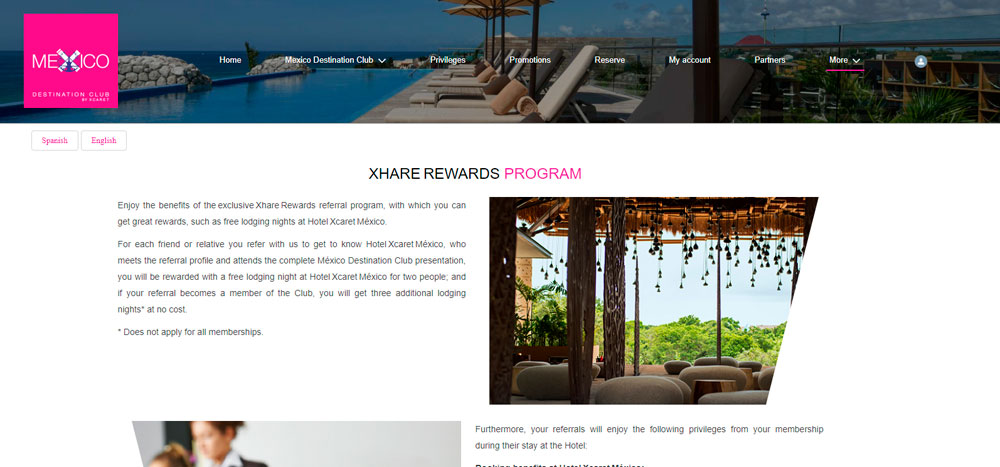 You can easily access our strategic partners' websites and take advantage of your membership to obtain special rates and discounts, or use your Savings Credits to get more experiences at hotels, cruise ships, car and catamaran rentals, and more. Likewise, you may exchange weeks with more than 4,000 properties in more than 100 countries in the world.
Make sure to explore all the pages and sections in our website thoroughly, and make the most of every advantage of your vacation club membership.
Finally, thanks to your annual renovation payments, we keep our website updated and our search engine and security software active, since we use your payments for this purpose, facilitating the use of your benefits as a member of México Destination Club.
To simplify this transaction, you will receive an email when your membership anniversary is approaching, from which you may pay directly.
Ask for the advance payment options for your annual fee and our executives may offer excellent alternatives.